FTD University Scholarships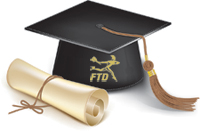 FTD University is offering $10,000 in scholarships to FTD's #1 rated business and design workshop, FTD Boot Camp in 2020! Ten lucky florists or their team members will each receive a $1,000 scholarship.
FTD University scholarships are offered exclusively to active FTD Member Florists in good standing, or their employees, who share our passion for continuing education in the floral industry.
A total of ten $1,000 scholarships will be awarded to FTD Boot Camp. To earn one of these scholarships, applicants must fill out a short application and answer five short-answer essay questions.
The application deadline ended on March 15, 2020.
Scholarship opportunities are only available for first time participants to:
FTD Boot Camp (10 scholarships available)
August 3-5 or October 5-7, 2020, Downers Grove, IL
Registration fee: $699 (transportation and accommodations not included)
Learn more at FTDi.com/FTDUniversity/BootCamp
FTD University Scholarship Terms & Conditions

If you have questions regarding any of the FTD education programs, please contact us at education@FTDi.com.