Online Rating Service
Did you know that shoppers are more likely to make a purchase from a website that shares customer ratings? Boost your website's credibility and share your customers' feedback with FTD Online Rating Service for just $39.99 per month (a $149 value).
FTD Online Rating Service can help you showcase that you are a five-star florist and convert browsers into buyers!
Features
A cart abandonment tool displays a pop-up promotional message that offers discounts or recommends products when a shopper starts to leave your site*
Displays satisfaction ratings right on your home page
A monthly performance report is emailed to you so you can measure the impact the service is having on your sales
All customer reviews can be automatically emailed to you
Benefits
Improve conversion and increase sales
Showcase your best ratings
Effortless optimization
Monthly reporting
Start promoting your success and showcasing reviews to start driving online traffic today!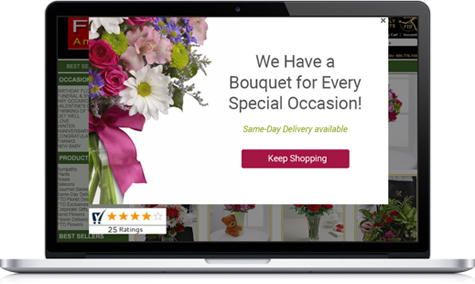 * Cart abandonment tools not available for non-FTD Florists Online sites