Better Homes and Gardens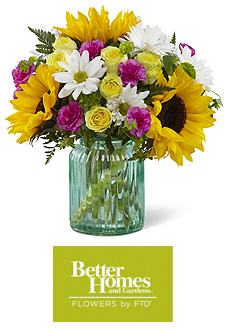 FTD has partnered with Better Homes and Gardens to bring you a breathtaking collection of everyday arrangements. These modernly simple everyday designs are a candid reflection of one of America's premier home and lifestyle brands. These bouquets are sure to complement any style of home decor and are a perfect way to increase order values.
When securing any great brand partnership through an exclusive licensing arrangement, licensing fees are standard. Licensing provides FTD with the right to use of the Better Homes and Gardens name and image to drive sales of the collection so that everyone benefits - our member florists, our customers and FTD.
Click Here for detailed licensing fee information.
View Better Homes and Gardens FLOWERS by FTD® images, recipes and SRP information in the Floral Selections Guide.