FTD Unlimited Coverage Plan
No longer let your budget limit your opportunities for orders. The FTD Unlimited Coverage Plan puts you in control with this results-based plan - you pay only for the orders filled.
With the elimination of the paper membership directory (starting May 2019), FTD Florists will no longer pay for fixed monthly fees for towns and ZIP/postal codes, directory subscription and information update fees.
The FTD Unlimited Coverage Plan is $4.99 USD ($4.99 CAD) per filled order.
Benefits of the program:
No fixed monthly fee for towns or ZIP codes
No directory subscription fees
List all your delivery towns and ZIP codes for FREE
FREE Expanded Profile included with all towns in FTD Florist Link
Results-based so you pay only for orders filled
The way the plan works is easy:
Submit your delivery coverage area using:
You pay only for the orders you fill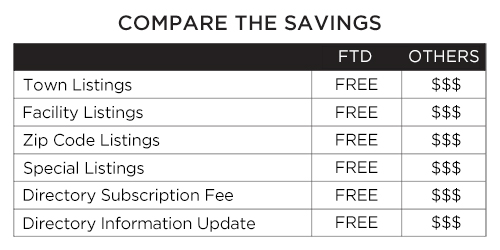 Questions? Contact your Field Business Consultant or Member Services at 800.788.9000.