Makeover Magic by FTD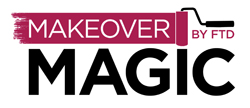 Win the shop makeover of your dreams
Your shop's appearance makes just as big an impact on your customers as your bouquets. An updated store layout, new fixtures and innovative product displays can create a space as visually exciting as your designs and help you take your business further.
FTD is ready to turn a dream showroom floor into reality for the lucky winner of our eighth annual Makeover Magic contest. One FTD Member Florist will receive a FREE visual merchandising makeover for their flower shop showroom by FTD Education Consultant and design expert J. Keith White AIFD.
This contest closes at midnight on Friday, July 10, 2020. Enter today!
To enter the contest:
Click the "Enter the Makeover Magic Contest" button below.
Complete the application, including the three short answer questions, and click "Submit Application"
IMPORTANT: The final step to entering this contest is to email us three to four photos, including your shop's current showroom (please make sure to include as much of the sales floor as possible), your front window display and the area of your showroom you would most like updated.
Photo submissions (minimum 3-5 photos, 300 dpi .JPG preferred) must be sent to floristrelations@FTDi.com by midnight Pacific Daylight Time on Friday, July 10, 2020.
Please note that all entries must be submitted by shop owners. All other entries will be disqualified from the competition.
Enter the Makeover Magic Contest
View the Official Contest Rules: United States and Canada (excluding Quebec)
---
Past Winners Transformation Gallery