Co-op Advertising
The 2016 Co-op Advertising program is closed. Redemption forms for approved fund requests will be accepted through January 31, 2017. Review the Media & Advertising section to ensure you are submitting all required information to expedite your redemption. Questions can be directed to FTDAdvertising@ftdi.com.
2017 Program
The 2017 Co-op Advertising program is currently undergoing its annual re-evaluation. An announcement about the program's status will be available in early February 2017.
---

Leverage the Power of the FTD Brand in Local Advertising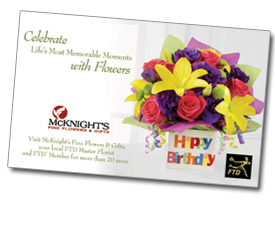 FTD's co-op advertising program helps member florists build local brand awareness and drive sales. When you feature the iconic Mercury Man logo in your advertising, we will reimburse you 50 percent up to $2,500 ($3,000 Canada) in a calendar year.
FTD reserves the right to terminate or amend this program at any time. FTD also reserves the right to retract reimbursement if the membership commitment is not met.