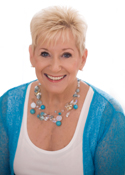 Nancy Friedman
President, Telephone Doctor® Customer Service Training
Nancy is one of America's most 'asked back' speakers, and she is the president of Telephone Doctor® Customer Service Training in St. Louis, MO.
A few conferences she has presented at are: American Leak Detection, Mid-America Cable Assn., Subway Int'l, Federal Reserve Banks, Precision Auto Tune, Meeting Planners Int'l., Grease Monkey, National Apartment Assn., American Rental Assn. and many more.
A unique program fitting all industries and job titles, Nancy's style is dynamic and laugh-out-loud funny. Her sales and customer service background, along with her professional theatrical career, allows her to bring a powerful and humorous program to audiences all over the world.
OPRAH, Today Show, CBS This Morning, Good Morning America, CNN and Fox News are just a few of the top shows she's appeared on over the years. Nancy was also named one of the 25 Most Influential Businesswomen in St. Louis.
She is the author of seven books on communications and hundreds of articles in leading newspapers and magazines, including USA Today and "Manager's Journal" in the Wall Street Journal. Nancy's programs are high-energy, high in content, and best of all, high-results. Nancy and her family run business are located in St. Louis, MO.