FTD Mercury Training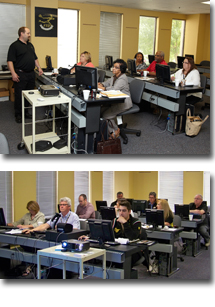 Maximize your FTD Mercury Point of Sale (POS) system investment with the industry's most comprehensive training held at FTD Headquarters in Downers Grove, IL or one-on-one via a remote connection. Whether you have had your FTD Mercury for a few days or for several years, FTD can help you increase your knowledge to get the most out of your powerful POS system.
The training covers all aspects of FTD Mercury from order entry to advanced features, so you not only learn how each feature functions, but how it can impact other features to help you grow your business. The training was designed to help owners, office managers and general staff improve their overall ability to effectively use the POS system. The following training classes are exclusively for florists using FTD Mercury Point of Sale.
FREE! FTD Headquarters Training
With 12 classroom-style workstations, multiple members can train simultaneously, providing you the opportunity to focus, take notes and ask questions about your system on all session days. This FREE training includes lunch and snacks on all session days and one night of hotel room and tax at the DoubleTree Suites Downers Grove (hot breakfast buffet and high-speed internet included).
2018 FTD Headquarters Training Dates
July 10-12, 2018 (Class Full - Waiting List Available)
August 14-16, 2018
October 9-11, 2018
November 6-8, 2018
Personalized Training
Get one-on-one training for your Mercury POS system on specific training topics of your choice for the low cost of $99 per hour. Scheduled at your convenience, you will receive personalized training with your own data from your own POS. We simply set up a remote connection to share your screen and host the tutorial with an expert trainer.
If you have questions, please contact us at 800.788.9000 or techeducation@FTDi.com.