Equipment Options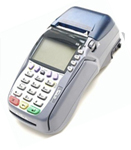 With a variety of credit card processing options, low flexible rates and no charges for converting your existing terminal, FTD Cash-Flo is an affordable way to manage credit card transaction costs. We make it convenient to use your existing terminal or allow you to select from a variety of equipment options offered by FTD.
FTD Cash-Flo currently offers the following easy-to-use and
cost-effective terminals:
VX510 – This entry-point, all-in-one, dial-up terminal and printer can offer smaller flower shops a variety of customer service options. The VX510 comes in a sleek, compact design and offers ample memory for quick processing of credit and debit cards.

VX570 Dual-Com – The VX570 is a high-speed terminal with dial-up back up offering power and performance, as well as flexibility and functionality. With an intuitive
ATM-style interface, bold menu prompts and a white backlit display, this option offers FTD Members a high-end solution to meet your every need.

Pin Pad – Regardless of the size of your shop, this external debit pin pad point-of-sale option offers end-to-end encryption and remote key management.
For pricing and payment options, please contact FTD Cash-Flo and our representatives will work with you to customize a plan that best suits your shop's needs.
For more information or to sign up, contact FTD Cash-Flo at 800.788.9000 ext. 4262 or cashflo@FTDi.com.