The FTD #ILookToHer campaign is all about honoring the women who shape our lives.
The mothers who are always ready with an encouraging word, the friends who have had our backs since childhood, the wives who somehow know what we need before we even ask.

How about taking the inspiring woman in your life for a getaway to celebrate her?
Enter the FTD Florist #ILookToHer Sweepstakes today and tell us about the special women in your life. Eight lucky FTD Member Florists will receive round-trip flights for two.

To Enter:
Upload a photo of a woman you look to.
Complete the caption, telling what you look to that woman for and using the hashtag #ILookToHer.
Complete the required fields and click "Enter."
You may enter a maximum of once per day per email address during the sweepstakes period (March 8 through May 3, 2017).
Prizes:
Eight (8) Grand Prize Winners: Two round-trip airline tickets. Approximate Retail value ("ARV") for each prize is $800.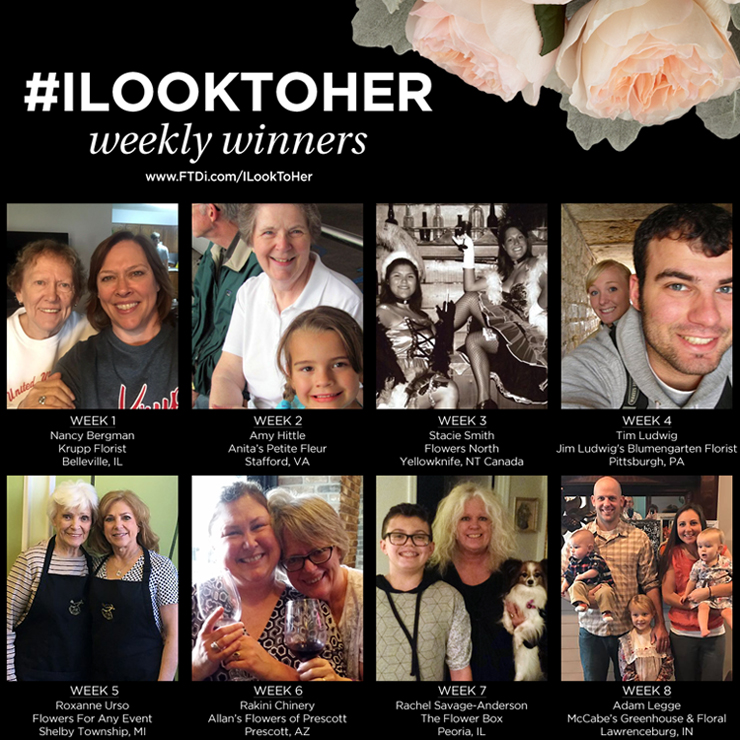 A gallery of all entries will appear on the Mercury Network Facebook page.
---
FTD® Florist #ILookToHer Sweepstakes
Official Rules
No Purchase Necessary to Enter or Win
SPONSOR:FTD, Inc., 3113 Woodcreek Drive, Downers Grove, Illinois 60515 ("Sponsor"). Although the FTD Florists #ILOOKTOHER Sweepstakes (the "Sweepstakes") is administered through a WooBox interface and reposted to Facebook, the Sweepstakes is in no way sponsored, endorsed or administered by, or associated with Facebook, though Facebook's terms of use apply to their use. You are providing your information to Sponsor and not to Facebook.
ELIGIBILITY:The Sweepstakes is open only to permanent legal residents of the continental United States and Washington, D.C. (excluding Guam, Puerto Rico and all other U.S. and foreign territories and possessions) and Canada (excluding the province of Quebec) who are physically located and residing therein and who warrant and represent that they meet all of the following requirements as of the time their entry into the Sweepstakes is deemed complete: (a) they are at least 18 years of age or the age of majority in their state/province of residence; (b) they are an active member in good standing of the FTD Florist Network (or are an employee of an FTD Florist Network member); (c) they have Internet access; (d) they possess a social security number, or federal tax identification number issued by the appropriate government agency at time of entry; (e) they have carefully read and reviewed prior to agreeing to, and agreed to as instructed, the Sweepstakes Official Rules; and (f) neither the entrant nor any other employee, owner, or partner of the FTD Florist Network member has already won a Prize as part of the Sweepstakes. Employees of Sponsor (defined above) and those involved in the development, handling, production, implementation and distribution of the Sweepstakes, and their advertising or promotion agencies, parent companies, agents, officers, subsidiaries or affiliates, prize suppliers, or any other persons/entities directly associated with the Sweepstakes (collectively "Sweepstakes Entities") and/or members of their immediate families and/or persons living in the same household as such persons, whether or not related, are ineligible to enter the Sweepstakes.
ENTRY PERIODS:The Sweepstakes begins at 12:01 am CT on March 8, 2017 and ends at 11:59 pm CDT on May 3, 2017 (the "Program Period"). Entries will be eligible for weekly Prizes awarded during the same week the Entry was submitted. Entries will be accepted from Wednesday at 12:01am CT to Tuesday 11:59pm CT each week during the Program Period (each a "Weekly Entry Period"). Entries received prior to or after the Program Period will not be accepted and Sponsor's clock shall be the official timekeeper for the Program Period and Weekly Entry Period(s).
HOW TO ENTER:To submit an entry, go to www.FTDi.com/ILookToHer and upload an original photo of the woman you look to (the "Photo") with #ILookToHer, a brief statement of why you look to her, and complete a short entry form.
CONDITIONS OF ENTRY:Submissions must feature #ILookToHer and why you look to the woman in your Photo. One entry per email address per day is permitted. The use of any agencies or automated software to submit entries will void all entries submitted by that person. In the event an insufficient number of qualified eligible entries are received during the Weekly Entry Period, Sponsor reserves the right to not select a winner that week. Sponsor's decisions are final in all matters relating to this Sweepstakes. If a Potential Winner cannot be reached after 3 days, the Potential Winner will be disqualified and an alternate Finalist will be determined by the judges.
NOTIFICATION OF WINNER:One (1) potential Winner will be selected randomly from each Weekly Entry Period between March 8 and May 3, 2017, for a total of eight (8) winners (each a "Potential Winner"). Each Potential Winner will be notified by email (at the email address provided in the Sweepstakes entry) within 2 business days of the close of the applicable Weekly Entry Period. Each Potential Winner will have three (3) business days after the date of the notification email to respond in accordance with the notification. If a Potential Winner does not respond to the email notification within this time frame, he/she may be disqualified and an alternate Potential Winner may be selected from among the other Sweepstakes entrants at Sponsor's sole discretion. If the prize notification cannot be delivered or is returned as undeliverable, the Potential Winner forfeits the prize. In the event that any Potential Winner does not comply with these Official Rules or is otherwise disqualified for any reason, Sponsor may award the prize to an alternate Potential Winner selected from among the other Sweepstakes entrants, at Sponsor's sole discretion. Each Potential Winner who receives the prize is known as the "Winner".
PRIZE: Eight (8) Winners will receive two round-trip airfare tickets for travel between two major commercial airports located in the continental U.S. and Canada (the "Prize"). Approximate Retail Value ("ARV") for each prize is Eight Hundred Dollars ($800 USD). Sponsor's maximum liability for Prize is $800 USD per Winner.
Travel must occur by December 31, 2017 and must be roundtrip booked at least 30 days prior to initial date of travel. Sponsor will determine airline and flight itinerary in its sole discretion. No refund or compensation will be made in the event of the cancellation or delay of any flight. Travel are subject to availability. Travel is subject to the terms and conditions set forth in these Official Rules, and those set forth by Sponsor's airline carrier of choice as detailed in the passenger ticket contract. All expenses and incidental travel costs not expressly stated in the package description above, including but not limited to, ground transportation between the Winner's residence and the major commercial airport in the United States or Canada closest to the Winner's residence, meals, incidentals, passenger tariffs or duties, surcharges, airport fees, service charges or facility charges, hotel room, hotel services, laundry service, alcoholic beverages, merchandise, souvenirs, local and long distance telephone calls, tips and gratuities, security fees, taxes or other expenses are the responsibility solely of the Winner. Any travel companion under eighteen (18) years of age must travel with a parent/legal guardian. The travel companion must travel on same itinerary and at the same time as the Winner. If the Winner is a minor in his/her state of residence, at least one of the travel companions must be the Winner's parent/legal guardian. Travel companion must execute liability/publicity releases prior to issuance of travel documents. The Winner and travel companion are solely responsible for obtaining valid passports and any other documents necessary for travel, including international travel. Travel restrictions, conditions and limitations may apply. Sponsor will not replace any lost, mutilated, or stolen tickets, travel vouchers or certificates.
Prize is not transferable and no cash or other substitution may be made, except by the Sponsor, who reserves the right to substitute a prize with another prize of equal or greater value if the prize is not available for any reason as determined by the Sponsor in its sole discretion.
LICENSE TO USE SUBMISSIONS:Sponsor shall have the right to disqualify any entries that they deem to be obscene, vulgar, sexually explicit, lewd, derogatory, inappropriate, not aligned with Sponsor's #ILookToHer campaign, or otherwise not in good taste, as determined by the Sponsor in its sole discretion. Submissions (as defined below) must not contain any of the foregoing content nor any third party material (including, but not limited to, any company logos or trademarks, photographs, likenesses, film or video clips, or any other copyrighted or trademarked content) for which you have not been granted specific written permission for this use by the copyright or trademark rights holder. You grant to the Sponsor and its designees the irrevocable, perpetual, worldwide, non-exclusive right and license to use, reproduce, edit, market, store, distribute, have distributed, publicly and privately display, communicate, publicly and privately perform, transmit, have transmitted, create derivative works based upon, and promote the Photo, your image, biographic information, any material submitted as part of your Entry, biographic information, and comments (collectively, the "Submission") in connection with the Sweepstakes and such other products or services as the Sponsor may designate in any medium now known or hereafter devised for editorial, commercial, promotional and/or any other purpose. In addition, the Sponsor shall have the right to reproduce and distribute your Submission for promotional purposes in broadcast, print and or other media as the Sponsor may determine in its sole discretion. You retain ownership of all right, title, and interest in and to your Submission. You agree that the Sponsor owns all right, title, and interest in any compilation, collective work, or other derivative work created by the Sponsor using or incorporating your Submission. You hereby grant to the Sponsor the right to edit any of your Submission, in whole or in part. In addition, you hereby grant to the Sponsor and their designees the right to use any edited Submission, or parts of a Submission, without your approval and waive any right to inspect or approve uses of the Submission prior to or following publication and any right to compensation for the Submission. All elements of your Submission must be your original work and must be owned by you, and you must have the right to grant any and all necessary rights and licenses, including without limitation, all necessary copyright and other related rights to all of the materials, free and clear of all claims and encumbrances without violating the rights of any person or entity, including any right to privacy or publicity. By entering your Submission, you agree to release and hold harmless the Sponsor and its officers, directors, employees, and agents from and against any claim or cause of action arising out of your Submission or your participation in any phase of this Sweepstakes.
ADDITIONAL TERMS AND RESTRICTIONS:Failure to enforce any term of these Official Rules shall not constitute a waiver of that provision. If for any reason the Sweepstakes is not capable of being executed as planned, or infection by computer virus, bugs, tampering, unauthorized intervention, fraud, action of entrants, technical failures or any other causes beyond the control of Sponsor, corrupt or affect the administration, security, fairness, integrity, or proper conduct of this Sweepstakes, Sponsor reserves the right at their sole discretion to disqualify any entry or entrant and to cancel, terminate, modify or suspend the Sweepstakes and/or award the prize from among all eligible entries received as of the date of the termination, as Sponsor determines in their sole discretion. Entries not complying with all rules are subject to disqualification. No correspondence regarding entries will be entered into with entrants. Sponsor shall have the right to modify, use, assign or dispose of such entries however they see fit without approval of entrants or any third party. Neither entrants nor Winners shall receive any compensation or credit for use of entries, other than that disclosed in rules. U.S. law governs the Sweepstakes.
DISPUTES:Except where prohibited, all issues and questions concerning the construction, validity, interpretation and enforceability of these Official Rules, or the rights and obligations of the entrant and Sponsor in connection with the Sweepstakes, shall be governed by, and construed in accordance with, the laws of the State of Illinois, without giving effect to any choice of law or conflict of law rules (whether of the State of Illinois or any other jurisdiction), which would cause the application of the laws of any jurisdiction other than the State of Illinois.
OFFICIAL RULES/NAME OF WINNER: For a copy of these Official Rules or the names of the Winners, send a self-addressed, stamped envelope to: FTD Florists #ILookToHer Sweepstakes "Rules" or "Names of Winners" (specify which), Attn: Florist Marketing Department, 3113 Woodcreek Drive, Downers Grove, IL 60515. All requests must be received by June 30, 2017.
©2017, FTD, Inc. All rights reserved.