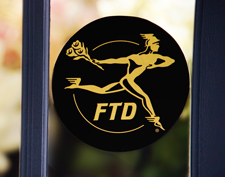 FTD, Inc. is a leading provider of floral related products and services to consumers and retail florists. The business utilizes the highly recognized FTD and Interflora brands, both supported by the Mercury Man logo, which is displayed in approximately 40,000 floral shops worldwide.
One thing that makes FTD Florists better than other florists and sets them on a higher level is the FTD Florists' Satisfaction Guarantee.
The FTD Florists 100% Satisfaction Guarantee provides the following benefits for FTD Florists:
Improves consumer confidence in FTD Florists, leading to increased sales and repeat business. Today's competitive environment demands an unconditional, hassle-free guarantee...FTD Florists deliver it.
Builds the value of FTD national advertising for FTD Florists.
Differentiates FTD from other services so consumers ask for FTD.