FTD's Fall Marketing Campaign Focuses on Birthdays and Thanksgiving
September is here and with that means the official start to autumn is only a couple of weeks away! The beautiful Fall Collection launched last week on FTD.com and ProFlowers.com, and customers are loving the bold colors and rich textures of our arrangements.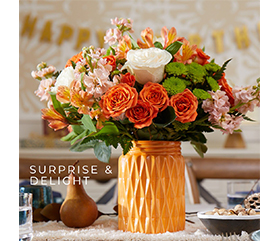 Throughout the Fall season there are several occasions and holidays to celebrate with flowers, and FTD will make sure to engage with customers in various channels like social media and email.
Other occasions where we will be engaging with customers to promote floral gifting includes Boss's Day (10/16), Sweetest Day (10/19) and Halloween (10/31).
Most importantly during the Fall, orders for birthdays are 40% of volume in September and October. It is important that you're ready to fill orders for our seasonal birthday big bets - like F4, B44 and B45 and of course our Everyday birthday (CCL, B53, BD1, BD2, B07 and D5-4894) arrangements.
More to come on the Thanksgiving holiday marketing focus in October.
The projected Birthday occasion best sellers: